KACAB Teknik AB has an ever-growing range of quality products at good prices!
If you have a special demand or requirement for a product, with KACAB´s decades of experience, our expertise can always provide you with fast help and the very best solutions
Do not hesitate to contact us - We are experts in Shrink Tubing, Cable Ties and Cable Shoes!
Click on the link below if more info is desired
KACAB – Heat Shrink Tubing, Cable Ties and Cable Lugs
KACAB was founded in 1993 and we are a supplier specialised in electrical maintenance materials, primarily heat shrink tubing, cable ties, cable lugs and terminals, and today we are one of Sweden's most complete supplier of the industry. We offer the market's widest and best product range of shrink tubing, moldings, protective tubing and cable ties.
Through close cooperation with our producing partners, our product development is constantly adapted to the demands of the industry. With the help of the latest technology from our suppliers in the planning and production stages (R&D), the time to adapt our products to a ready-to-assemble product is minimized..
Let us be your supplier of Shrink Tubing, Cable Ties and Cable Lugs!
Heat shrink tubing
KACAB's heat shrink tubing is available in a large amount of materials that are developed to operate in temperatures between -75 ° C and + 260 ° C at a constant working temperature. The tubings can be thin, medium or thick-walled and are delivered with or without adhesive inside.
All standard shrink tubing is flame retardant or self-extinguishing. They have a shrinkage capacity from 2: 1 and up to 6: 1 and can be delivered in a variety of colors and sizes (0.6 mm – 1500 mm).
Our tubing vary from economical, to high-tech, and are approved according to UL224 / CSA and specified with a variety of MIL standards.
Product quality is our key word. All our products meet or exceed all approvals / environmental requirements such as RoHS and REACH, and where applicable, UL, Mil, ASTM, VDE and Cenelec HD623 (for "LV joints kits").
Our range of shrink tubing includes:
Heat shrink
Material: Polyolefin, PVC, Kynar®, Viton®, Teflon® and Elastomer
Thin walled, with and without adhesive
Medium-thick-walled, with and without glue
Heavy walled, with and without glue
Military specified shrink tubing
Medium voltage shrink tubing
Special shrink tubing
Halogen-free shrink tubing
To our Heat Shrink Tubing
CABLE TIES
Our range of cable ties consists of: standard Polyamide 6.6 (PA 66) cable ties, heat-resistant cable ties, polypropylene cable ties, Tefzel® cable ties, traceable cable ties, stainless steel cable ties, openable cable ties, noticeable cable ties, Chassis cable ties, Air Conditioning cable ties and Thomas & Bettsing Tyband -Raps®.
We provide cable ties for most applications!
We specialize in Heat Shrink Tubing, Cable Ties and Cable Lugs.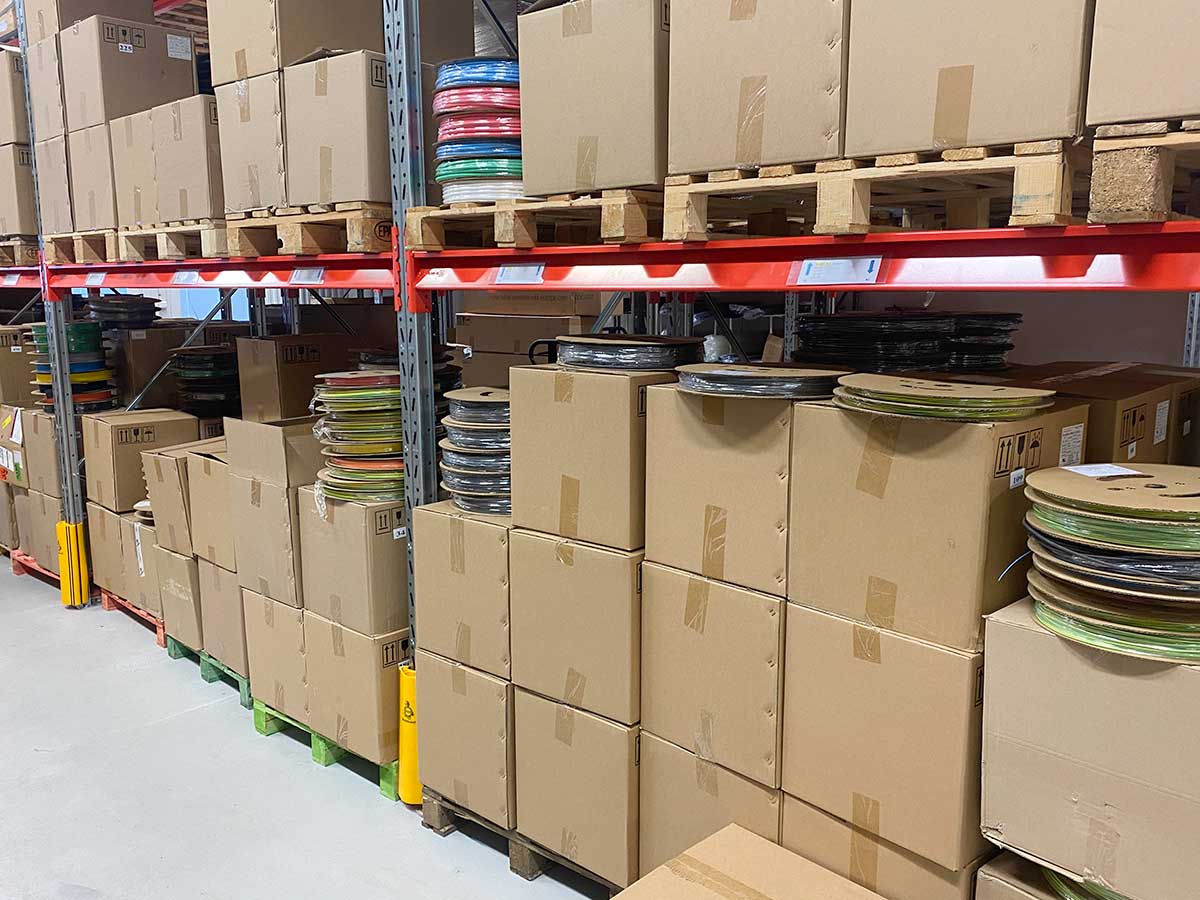 Film from KACAB's warehouse